Keyser Business Brokers
Whether your dreams include owning a business, retiring from one, or simply helping a business grow to its maximum potential Keyser Business Brokers' are here to be your relentless client champion during the business buying and selling process. Using a collaborative team approach, we ensure that every client receives the best marketing strategies available for expediting business sales and purchases. We also have extensive business evaluations expertise in in which we assess the value of a business and help you gain the upper hand.
GOING FROM
MOM-AND-POP R&D HOUSE
TO A SCALABLE
MANUFACTURING FACILITY
DOWNLOAD PDF
With over 50 years of business and partnership under their belt, the husband-and-wife team, Vivian and Steven Valenty, founders of VB Cosmetics, decided it was time to scale their 14,000 SF research and development facility to a full scale, 40,000 SF manufacturing facility. Having experience with a build-to-suit at their previous location at 318 S. Bracken Ln. Chandler, AZ, the Valenty's we're familiar with the commercial real estate process and determined the best option for their project schedule and business needs was to lease immediately available, newly constructed industrial space rather than purchase or develop a new building.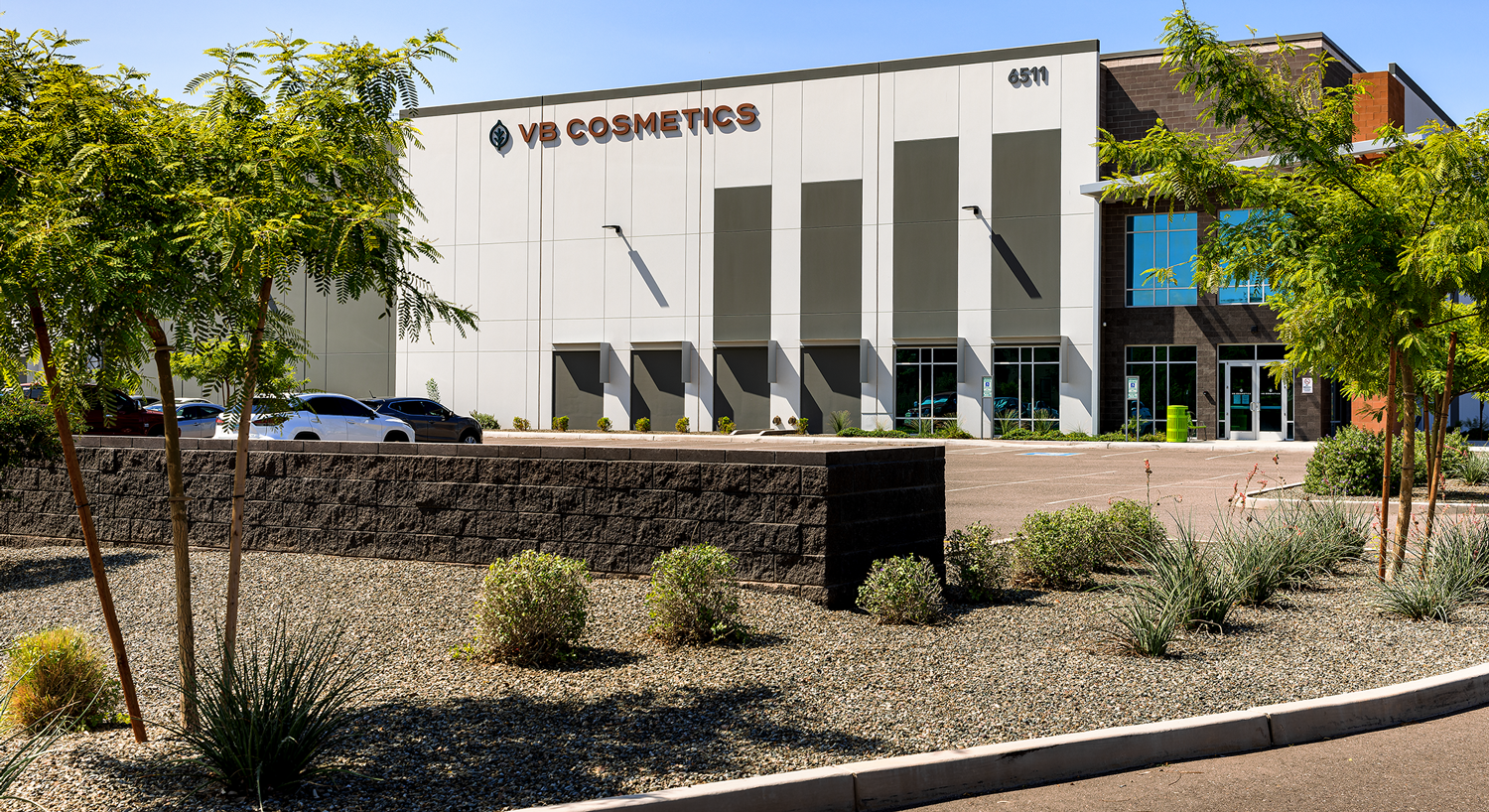 About VB Cosmetics
VB Cosmetics is a manufacturing company engaged in the creation and sale of cosmetics and personal care products. It has successfully transitioned from its beginnings as a private label manufacturer of its inventions to building its own global brands of clean, natural and science-based, functional, and proprietary beauty products. For more than 25 years, VB Cosmetics has been developing clean cosmetics with clinical results. Founded and developed by Dr. Vivian Valenty, their innovative products offer healthy solutions to some of the beauty industry's most sought-after treatments.
Its transformational product, Dazzle Dry, a quick-dry nail polish system, is earning awards and accolades and revolutionizing the nail industry, creating a class of its own in this crowded market. VB Cosmetics is also committed to sustainable business practices. As a company, VB Cosmetics plants one tree for every online order placed. They have planted over 270,000 trees thus far and have a goal of 2 million in the next ten years.
In addition to Keyser's commercial real estate and project management services, this 40,000 SF design, build-out, cleaning, commercial move, racking systems, and signage were masterfully completed by the following vendors.